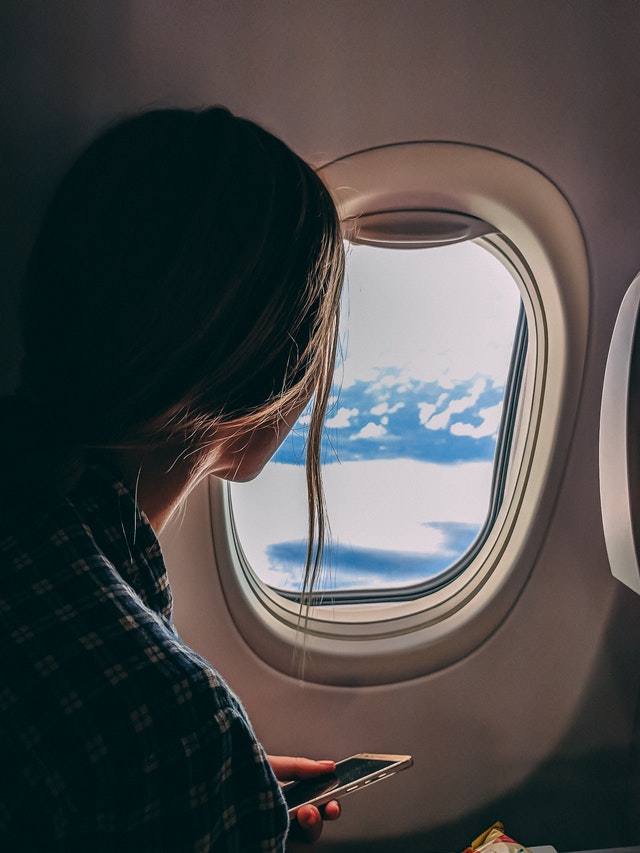 Imagine with me….you're on an airplane, cramped and tired, eager to reach your destination. The flight crew is passing by with the snack cart. You're not really hungry, you just ate a crappy overpriced sandwich back in the terminal—but you notice that the guy in a suit sitting next to you is treating himself to a bag of M&Ms and a Chardonnay. You've never met this person before and exchanged only a cursory nod as you took your seats. Still, research shows that you are now 30% more likely to spring for some candy and maybe even a glass of wine of your own.
WTF??? How can the unhealthy choices of someone you don't even know affect your decisions? It's a phenomenon called "social contagion" and it's very REAL!! A complete stranger's actions can be contagious! We experience this on a daily basis, when the behaviors of someone else become normalized and then we adopt them ourselves.
If the people in your social network are gaining weight, guess what, the likelihood of you gaining weight increases substantially. Their actions have far-reaching ripple effects on YOU! Studies show that you are more likely to be overweight if your friends and significant other are overweight, even more so than if your parents are overweight. Lifestyle choices trump genetics when it comes to your waistline!
In the words of Dr. Marc Hyman, "find fitter friends!"
This is where being part of a healthy community is very important. Aligning yourself with other fit, strong people is a very smart decision on your part, especially if you are an Obliger and need more external accountability. You should be very encouraged when other people at TGA are getting LEANER and STRONGER…..cause that means there's a greater likelihood that YOU are too!!!
Not everyone is equally susceptible to negative social contagions. People who have a STRONG PURPOSE are more resilient and less pressured by the actions of others around them. A STRONG PURPOSE or what we call your WHY is very powerful when it comes to insulating yourself from toxic social contagions.
It's very important to have a STRONG PURPOSE for being healthy. Mine is to prevent diabetes and to age much differently than the crowd. I plan to RE-DEFINE AGING! (And I sure hope I'm contagious) My STRONG PURPOSE means A LOT to me. It guides and directs all my actions. Your STRONG PURPOSE will help insulate you from making decisions that are really based on negative social contagion. Having a STRONG PURPOSE motivates you to act differently than the crowd. It allows you align your actions with what you truly value: YOUR PURPOSE!. It's called Values-Based action. In order to achieve your weight loss goal or any goal for that matter, your actions MUST be aligned with your STRONG PURPOSE….EVERY.SINGLE.DAY.
To begin this process, you must 1st IDENTIFY YOUR PURPOSE!!! And then remind yourself of it DAILY, act in accordance with it, and watch the weight start melting away……. Trust me, if you start with your STRONG PURPOSE and stay motivated to act on it, you WILL LOSE WEIGHT and you WILL BECOME THE STRONGEST VERSION OF YOURSELF!
So……ARE YOU CONTAGIOUS??? Are your actions leading people towards or away from a healthier lifestyle?
Ask yourself, "are people in your life healthier and fitter because of your influence?" Is your family healthier and fitter because you are leading the way for them??
If you need help figuring out your STRONG PURPOSE and creating an action plan that will lead you closer to it, let me know. That's what Health Coaching is all about. I will be focusing on doing a lot of Private Health Coaching Sessions this Summer.
Group Health Coaching will be back up and running full force starting Monday, July 15.
Group Health Coaching is a three (3) month commitment. It consists of a weekly online forum and a monthly in person group session focusing your STRONG PURPOSE. It's a great way to get around healthy "contagious people" and catch what they have!!!
Let's be contagious…….No antibiotics required.
Coach T